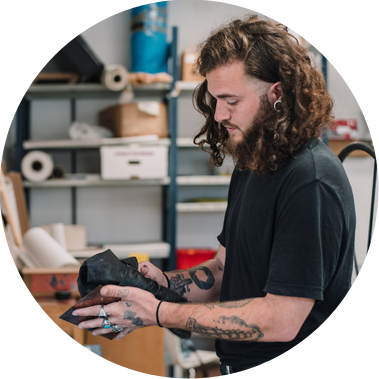 Lang (1996) is a darkroom artist from New Jersey. After quitting his job as a Nikon representative at 20, he moved from the United States to New Zealand in search of a fresh backdrop for inspiration. This trip triggered a series of travels over the next five years to Indonesia, Iceland, Thailand, Norway, Austria, Nicaragua and Sweden. His career as a photographer developed in parallel with these travels, using photography as a vehicle to travel and traveled as a means for photography.
His landscape photographs have been included in numerous publications, exhibited locally and internationally, and have received multiple awards. Simultaneously, Lang spent time experimenting in the darkroom. These experiments earned him an artist grant from the Princeton Area Community Foundation — he became the first photographer to receive this award. The fund was used to travel through many of the US national parks and further develop darkroom techniques. Shortly after presenting his artworks to the grant committee, Lang became a Resident Artist at the TYPA Center for Printing and Paper Arts in Tartu, Estonia.
Having gained access to historical printing processes he took up new creative directions such as cyanotype, carbon transfer, platinum palladium, and photogravure. Over the course of the four month residency, Lang was commissioned to create a permanent photo installation at the Estonian University of Life Sciences. In addition, he held two solo exhibitions at Aparaaditehas, the cultural center of Tartu.
Click here to download a copy of Lang's CV.